Top 10 Highest Grossing Bollywood Movies of All Time
posted on by Tushar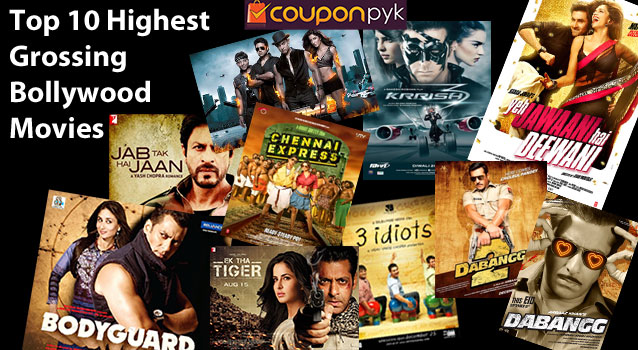 Bollywood has come a long way from 1994, when Prem and Nisha's love story, along with Tuffy's heroic antics took our hearts, and more importantly our money. Sooraj Bharjatya's Hum Aapke Hain Kaun was the first Bollywood film to hit the 100 crore mark. It took our cinema a good 14 years to arrive at that figure again- with Ghajini– but boy have they arrived and how. In this post we have compiled a list of the top 10 highest grossing Bollywood movies of all time.
With each of the highest Bollywood grossers of all time having been released between 2009-2013, it seems they now have the formula of box-office success all figured out. The elite "100 crore club" has become passé with 26 films already hitting the mark in the past 3 years. Aamir Khan, who started it all with Ghajini, went on to make the "200 crore club" with 3 Idiots in 2009, and has now made a whole new "500 crore club" with Dhoom 3.
Whether it is the quality of the film, the marketing and promotional blitz or sheer star-power that attracts the audience en masse to the theaters, coupled with higher ticket prices and more dubbed versions being released, it is safe to say that today filmmakers are leaving nothing to chance for their films to hit the financial sweet spot. 
The highest grossing Bollywood movies of all time (worldwide) are:-
1. Dhoom 3 (2013)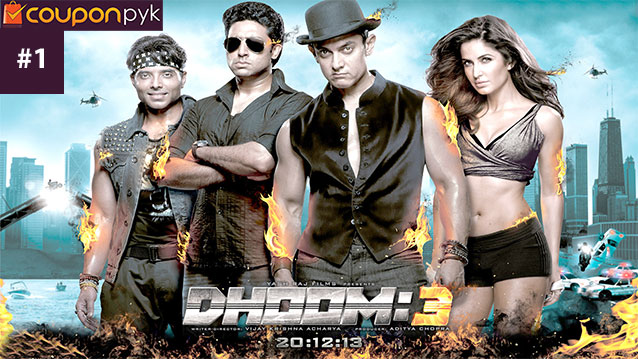 The third installment of the Dhoom franchise saw Aamir Khan play the lovable baddie who 'magically' robs a Chicago bank and is ultimately caught by our trusted Indian cops Abhishek and Uday (yes, he's still there) ; with an extremely agile and beautiful Katrina offering the eye-candy. Together, they all laughed their way to the bank when we happily gave them 533 crore! Dhoom 3 made it to the first place in our list of the top 10 highest grossing Bollywood movies of all time. This movie is a must watch and if you haven't watched it yet, we've got you covered; just check out our website for coupons on Movie DVDs and Music CDs at Flipkart or other top online shopping sites in India.
2. Chennai Express (2013)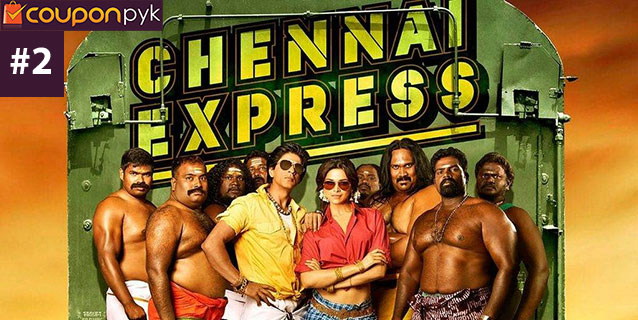 With 100 crore club veteran Rohit Shetty at the helm and King Khan at his side, is it much surprise that this action-comedy brought in 422 crores? Till Dhoom 3 came along, it had been the highest opening weekend earner, the highest first week earner and the fastest run to the 1 billion mark – just 4 days; Dhoom 3 made it there in 3 days. Aggressive marketing may have its critics, but it definitely seems to work. Chennai Express ranks 2nd on our list of highest grossing Bollywood movies of all time.
3. Krrish 3 (2013)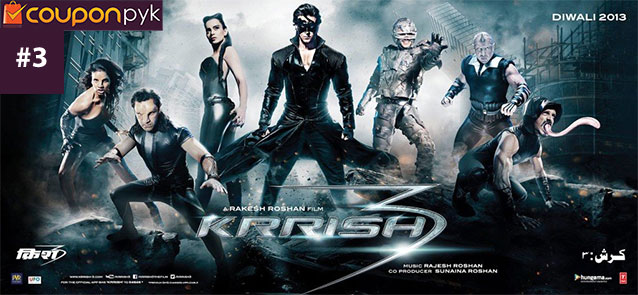 Who said Bollywood can't make great sequels? When 2 of the top three highest grossers are franchise films, the naysayers might as well eat their words. With Hrithik Roshan playing a superhero, a third helping is never too much. Production house Filmkraft went all out marketing, with more than 20 brands on-board for in-film and co-branded content, like the Tata Manza and Micromax and even a Microsoft Krrish3 game for the XBOX! Krrish 3 touched the sky with a total earning of 420 crores. Want to try out the XBOX Games or or order the Movie DVD? Don't forget to check out our website for coupons to save you money while you shop.
4. 3 Idiots (2009)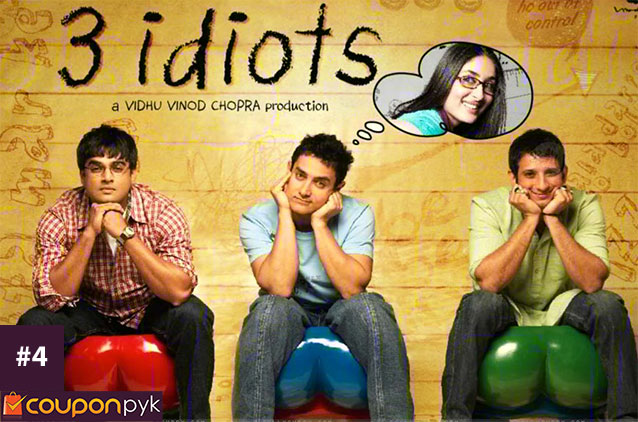 Aamir Khan broke records with this one when it became the first film to ever gross 200 crores. Just like the motto of the film, it only strived for excellence; the success- 393 crore worth- came running after! This movie had just the right mix of Comedy, Romance and Drama which led to its successful 4th position in our list of highest grossing Bollywood movies of all time.
5. Ek Tha Tiger (2012)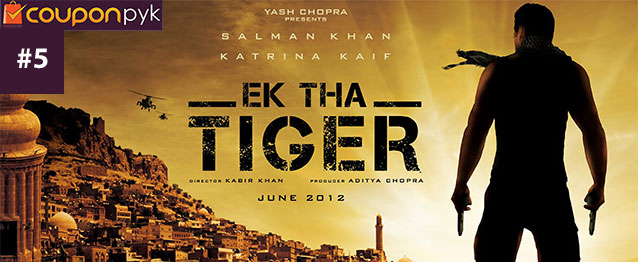 This Salman-Katrina starrer spy thriller crossed the 100 crore mark in just 5 days. With breath-taking locales, high-speed chase sequences and slick editing, director Kabir Khan was able to deliver a massy entertainer with a touch of class. The critics may have given it fewer stars but the audience lapped it right up, giving it a massive 310 crores!
6. Yeh Jawaani Hai Deewani (2013)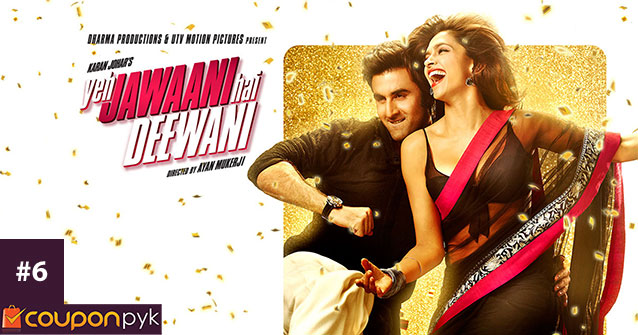 This one broke the myth about real-life romances not working in reel time. With crackling chemistry between Deepika and Ranbir, and music that has found its way into every Indian wedding sangeet, this Dharma Production delivered the age-old romantic film formula with a youthful spin. And took home 302 crores in the process making the movie rank 6th on our list of highest grossing Bollywood movies of all time.
7. Dabangg 2 (2012)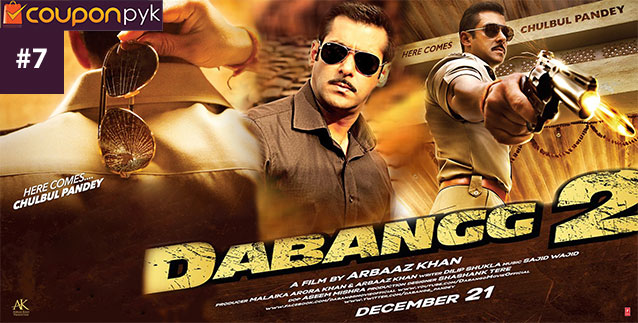 Yet another sequel in the top 10 highest grossing Bollywood movies of all time list; this one carried on the antics of Chulbul Pandey who foils  another evil goon and even starts a family by the end of it. The film retains the original cast of Salman, Sonakshi and Arbaaz with Prakash Raj filling in for the villain. The audience took Kareena's fevicol advice to heart and stuck with it, giving the movie a whopping 250 crores in collection. The franchise has done so well that Salman Khan has confirmed a Dabangg 3! Get both the movies in the series – Dabangg 1 & 2  on DVDs from Flipkart as these movies are evergreen and are great for some Coffee Time entertainment. They will surely make you laugh all over again. Don;t forget to check out our website for coupons to save on your order.
8. Bodyguard (2011)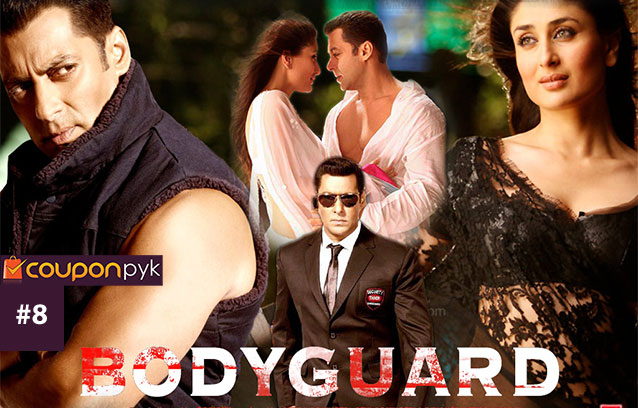 Bodyguard is a remake of a Malayalam film of the same name, with Salman playing Kareena's bodyguard-cum-love interest. A tale of unrequited love, it had all the elements of a Bollywood masala entertainer- action, drama, comedy and a heap of songs. All in all, this Bodyguard's earnings were 230 crores and it ranked 8th in our list of top 10 highest grossing Bollywood movies of all time.
9. Dabangg (2010)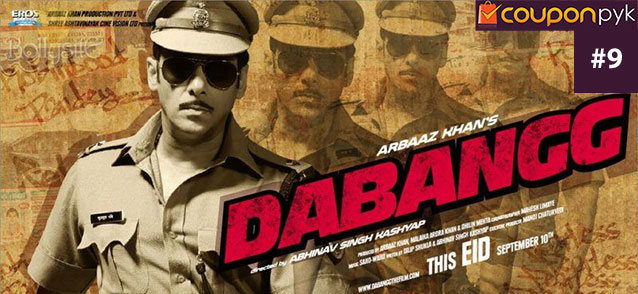 Being Abhinav Kashyap's first direction, Arbaaz Khan's first production and even starring Sonakshi Sinha for the first time, this film surprised both the movie-goers and critics alike raking in a total of 215 crores. With both Dabangg and Dabangg 2 grossing over 200 crores, a Dabangg 3 makes complete business sense. We can only wait and watch if the third instalment-a prequel that will show us what made Chulbul Pandey the way he is- delivers the same 'audacity'.
10. Jab Tak Hai Jaan (2012)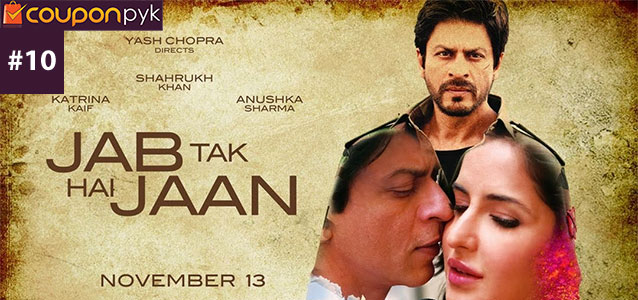 Yash Chopra's swan song, a love saga starring Shah Rukh Khan, Katrina and Anushka, Jab Tak Hai Jaan was Yash Chopra's return to directing after eight long years. The audiences may have come in deference to the great director but stayed for the music- given by Gulzar and A.R.Rehman- the exquisite cinematography and strong performances by the entire cast. Jab Tak Hai Jaan brought in a huge 211 crores and made it to the last position on our list of highest grossing Bollywood movies of all time.
Here's a quick sum up –
| | | | | |
| --- | --- | --- | --- | --- |
| Rank | Movie | Year of Release | Gross Earnings (in Rs. Cr.) | Director |
| 1 | Dhoom3 | 2013 | 533 | Vijay Krishna Acharya |
| 2 | Chennai Express | 2013 | 422 | Rohit Shetty |
| 3 | Krrish 3 | 2013 | 420 | Rakesh Roshan |
| 4 | 3 Idiots | 2009 | 393 | Rajkumar Hirani |
| 5 | Ek Tha Tiger | 2012 | 310 | Kabir Khan |
| 6 | Yeh Jawaani Hai Deewani | 2013 | 302 | Ayan Mukerji |
| 7 | Dabangg2 | 2012 | 250 | Arbaaz Khan |
| 8 | Bodyguard | 2011 | 230 | Siddique |
| 9 | Dabangg | 2010 | 215 | Abhinav Kashyap |
| 10 | Jab Tak Hai Jaan | 2012 | 211 | Yash Chopra |
These 10 bollywood movies are definitely a must watch and must keep for all true Bollywood fans out there. Go get your DVDs if you haven't already. And while you're at it don't forget to check out our coupons for savings on your order.
The top 3 films were all from 2013 alone. Do you think any film of 2014 will make it to this list?
Let us know in the comments!