Best Holi SMS Messages & Holi Greetings
posted on by Tushar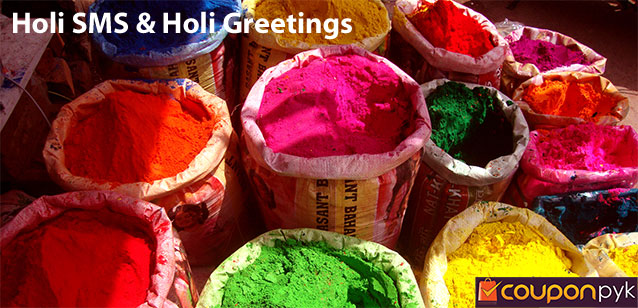 The festival of Holi is here! You know, the one where we show our loved ones how much we care by gleefully pelting them with water balloons and dousing them with colour till they are unrecognizable. Well at least the ones we can get our hands on. What about those we can only reach via our phones? Look no further, we've saved you the headache of trying to come up with innovative Holi SMS Messages & Greetings to wish your friends and family a Happy Holi!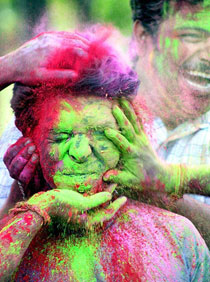 Instead of just rehashing the ones you receive, try one of our picks of the Best Holi SMS Messages and Greetings this season. You could simply copy-paste these as is (don't worry, we won't tell) or personalize them as you wish!
1. English Holi SMS
Auspicious red. Sunkissed gold.
Soothing silver. Pretty purple.
Gracious green. Blissful blue.
A colourful and happy Holi to you!
2. Hindi Holi SMS
Congressi ho ya Sanghi,
Ya ho follower of The Kejru,
Paani aur gulaal hai mehnge,
Is msg se hi kaam chalaale tu!
Happy Holi!
3. Hindi Holi SMS
Laal, gulabi, neela, peela hathon mein sament,
Holi ke din baaton khushiyan, kar ke meethi bhent.
Happy Holi!
4. English Holi SMS
May God gift you all the colours of life.
Colours of joy, Colours of happiness,
Colours of friendship, Colours of love
And every other colour you want to paint in your life.
Here's wishing you a colourful Holi!
5. Hindi Holi SMS
Aise manao Holi ka tyohaar, 
Ki pichkaari se barse keval pyaar.
Apno se gale milne ka mauka hai,
Toh gulaal lekar ho jao tayyar!
Happy Holi!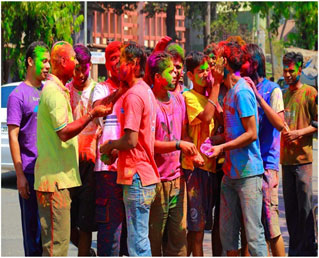 6. English Holi SMS
A touch of green I send to you.
A drop of blue to cool the hue.
A tinge of yellow for warmth & zest.
A little red for an auspicious best!
Happy  Holi!
7. Hindi Holi SMS
Pichkari ki dhar, Gulaal ki bauchar,
Apno ka pyar, Leke aaya Holi ka tyohaar!
Happy Holi!
8. English Holi SMS
Bright colours, water balloons,
Lavish gujiyas and melodious tunes
With all of these, hope your Holi
Is an absolute boon!
Happy Holi!
9. Hindi Holi SMS
Pyaar ke rang se bharo pichkari,
Sneh se rang do duniya saari,
Yeh rang na jaane koi jaat, na koi boli,
Aapko dil se mubarak yeh Holi!
10. English Holi SMS
Colours speak volumes when they touch our lives,
May your life be a riot of colours, today and otherwise.
Wish you a very Happy Holi.
Besides these you could always look to Bollywood songs for some inspiration. From the classic "Rang Barse" to "Do me a favour let's play Holi" and "Balam Pichkaari", our filmi gaane have quite a lot of variety.
We're sure these messages will fill the hearts of your close ones. However, if you're planning to send in some gifts and sweets to your special ones along with these Holi greetings then don't forget to check out our website for Holi offers and coupons from your favourite online shopping sites to save on your holiday shopping.
Do you have any fun Holi SMS messages or Holi greetings up your sleeve? Do share them with us in the comments.
Play safe and have a fantastic Holi!